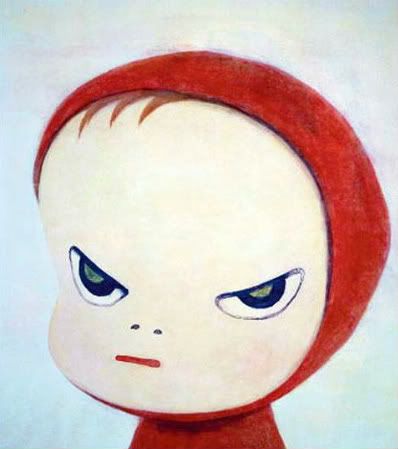 I first saw Yoshitomo Nara's work when i was in Ubud, Bali 3 years ago in an art shop, i guess. This cute face, oversized head with pinprick nose & tight pursed lips peeking into a world that seems eerily familiar through his persimmon pit-eyes...captured me. Then again on March this year at The Jim Thompson House in Bangkok, those familiar eyes...

from time to time I am like a child
from time to time I really am a child
from time to time I am like an adult
however (I) cannot truly become an adult
-Yoshimoto Nara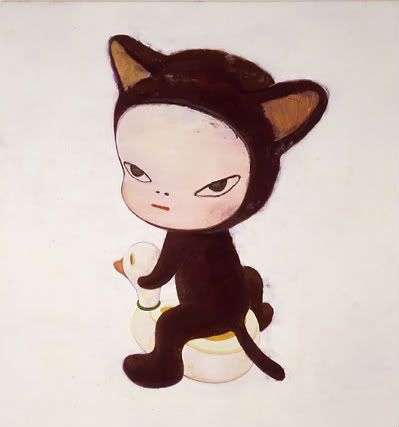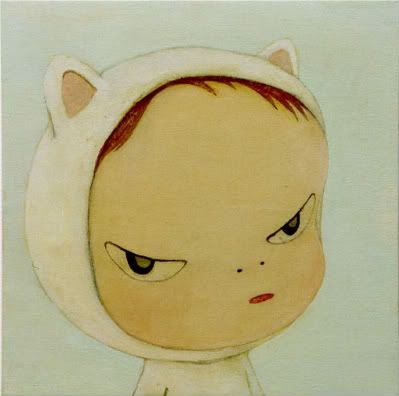 Born in 1959, the artwork of Yoshimoto Nara precedes the artist's own name. A long-term resident of Cologne, Nara having already exhibited in Milwaukee, L.A., Cologne and Seoul, with New York scheduled for later this year. The artist's Tokyo dealer, Tomio Koyama says that a major Nara sculpture was recently purchased by an American collector, and is earmarked for long-term loan to the San Francisco Museum of Modern Art. With a couple of books both in their second run, a limited edition wristwatch and a clothing line that incorporates motifs from his artwork, Nara is well on his way to developing a cult following in Japan.

The young and vulnerable, Yoshimoto Nara was often left to entertain himself, playing games and using his imagination to pass time resulting a deep sense of loneliness just like many of Nara's work, where the kids are always engaging in innocuous solo activities: holding a flag, playing in a box, sitting on a potty, holding a book, standing in a puddle. But sometimes they are brandishing sharp little implements--knives and saws. Capturing these scenes in a moment of stillness,
the children look up at the viewer with what seems to be an air of wariness or is it complicity?
do those heavy eyelids indicate post- or pre-nappy time
or do they embody a jaded cynicism,incongruent with the insouciance of childhood?

Each work is an emotional trigger which has different effects on different viewers.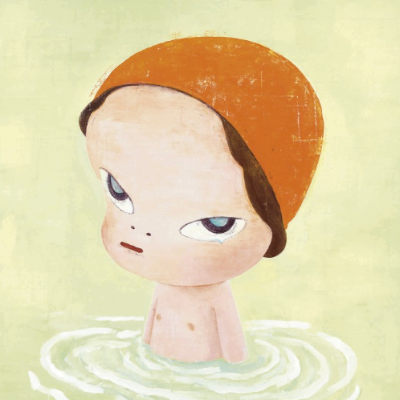 Deep Deep Water Puddle

where is this place
how did I come to be here
looking around the restrictive shallows
the light from the sun glitters on the water's surface
I walk slowly while submerged in the water
walking in scattered patterns like the other children
without passing one another
keeping a certain distance
expressionlessly passing by one anotherthere seems to have been the sound of a helicopter above my headregardlessly I continue forward through the shallowswater clings heavily around my legswhile feeling my own existencein the deep deep puddlewhile having a dream of drowning
-Yoshimoto Nara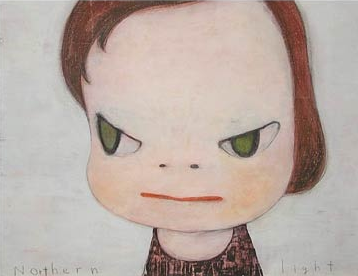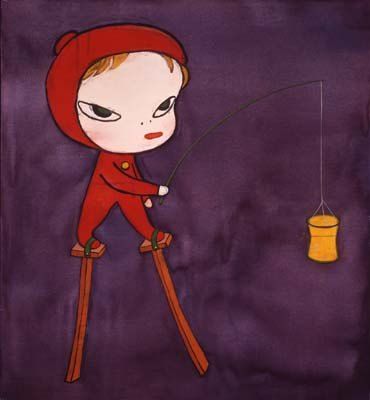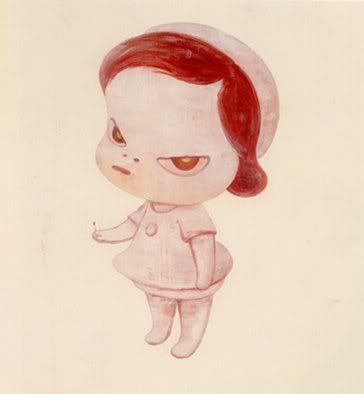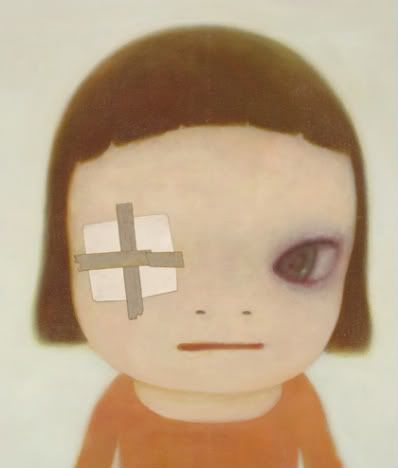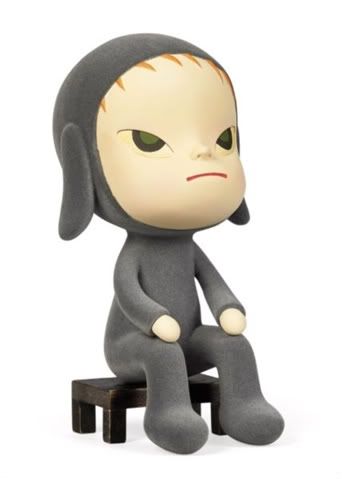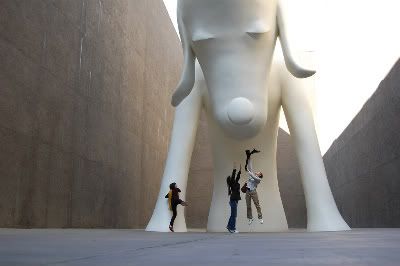 a+. yoshitomo nara via the-artists.org via christie's via wikipedia