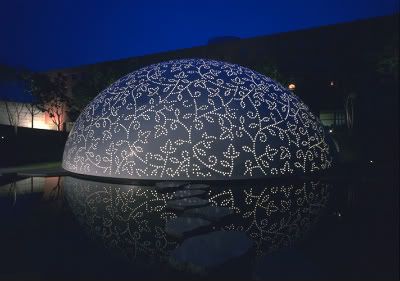 I present u...The Leaf Chapel!
The intricacy of lace pattern motifs with it's stunning reflection on water looks unbelievable!
I've seen this before... today, again after a long time via...
Design by Klein Dytham Architecture in 2oo4, Leaf Chapel sits within the grounds of the Risonare hotel resort in Kobuchizawa, a refreshingly green setting with beautiful views to the southern Japanese Alps, Yatsugatuke peaks and Mt.Fuji.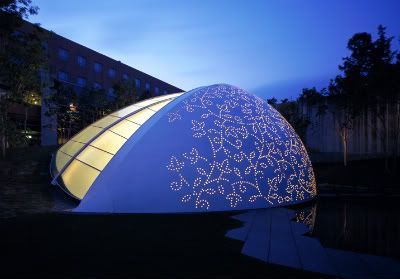 The chapel is formed by 2 leaves - one glass, one steel - which have seemingly fluttered to the ground. The glass leaf with its delicate lace pattern motif emulates a pergola and the structure holding it up reminds one of the veins of a leaf which slowly become thinner the further they get from the central stem.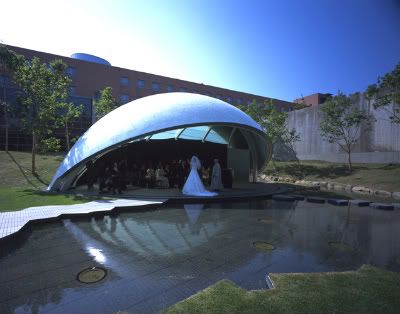 The white steel leaf, perforated with 4700 holes, each of which hold an acrylic lens, is similar to bride's veil made of delicate lace. Light filters through the lenses and projects a lace pattern onto the white fabric inside.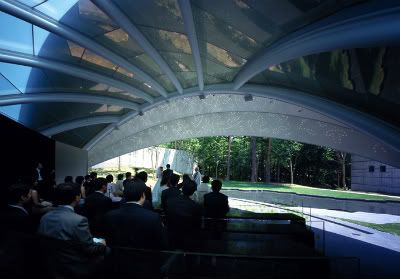 At the end of the ceremony when the groom lifts the bride's veil for the legendary kiss the 'steel veil' magically opens too, revealing the pond and the enchanting nature beyond.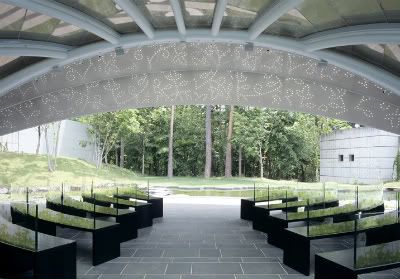 The wedding chapel of your dream, perhaps?
Klein Dytham Architecture