The industrial designer behind Daniel Loves Objects' bookshelf of Wars & Wits & Powers, who resides in Singapore gets inspired by the things that happens around him.
'On his approached towards ideation of a concept, he tries to inject some form of interactive factor into it so that the user will have a form of remembrance when he relates with the product, a kind of reminiscence that will perhaps strike up some joy and relationship when a connection is made.
He is always ready to be inspired from and aspired for the many objects that sit around us, knowing that
design could always transform a certain mundane individual, allowing it to exude a form of language that will speak to the surrounding environment, expressing a form of finesse between human, object and technology.
'
-Daniel Loves Objects.
On Wars & Wits & Powers:
Driven by the recent crisis of certain countries who got very uptight over issues of being asked to disarm their missile test launched, their alarming action to remain hostile and persistent in their belief had stirred me to create this part of a furniture combination to depict their behavioral trait, a bookshelf with their golden army, strategically placed underneath, to uphold and to protect their ultimate plans,frozen in time for all to see.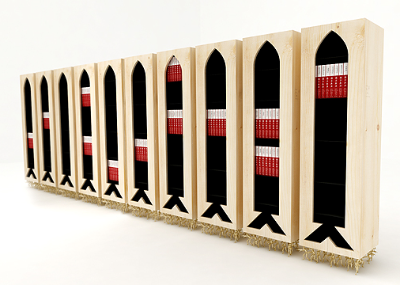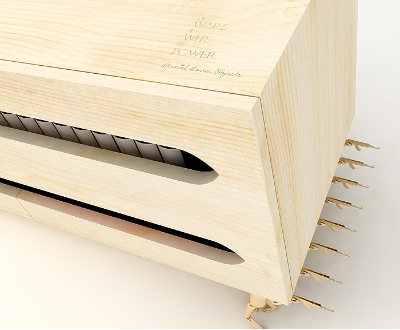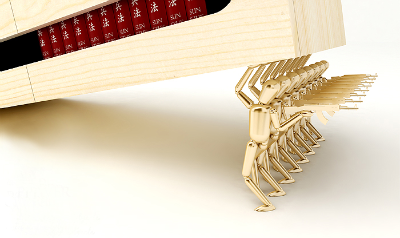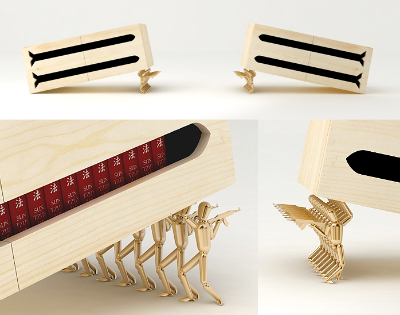 a+. daniel loves objects via yatzer